The more I think about the vacation coming up…the more excited I get. 
Looking back at last year, there is only one weekend that stands out in my mind. The trip we took to see The Killers in San Francisco. I had those tickets for what seemed like a lifetime. We hit the road on a Friday morning, with no hotel reservation or any idea what we were going to do. "We'll find a room", I assured them. 
We were so excited and in awe when we arrived and drove to the first hotel we found. No Vacancy. We called a few more, no rooms for us. What were we going to do? Here we are, 8 hours from home and with no place to sleep. Finally, we found a Motel 6 by the airport that would accommodate us. The room was just like we expected, shitty. 
We spent the next day driving around San Francisco, sightseeing, visited Golden Gate Park, took a trip through the bridge. We did everything and nothing, all at once.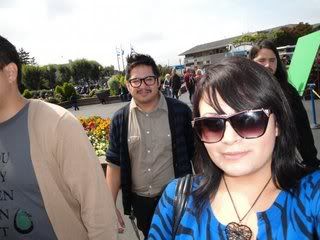 That night was The Killers concert. I had been holding onto those tickets since May, the concert was in September.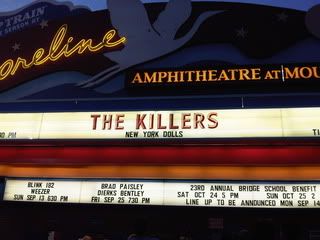 The concert was amazing. Chris & I were so drunk that the people next to us left halfway through. I guess we were that annoying. We were too drunk to care though.
The boys thought I was crazy, but I accepted this mustache from another drunk girl. How could I turn down the chance to show Brandon Flowers how much I love him and want to marry him and have his babies?! I had NO CHOICE but to put it on (even though it was upside down, apparantly)…..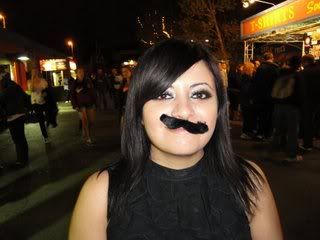 I still have that mustache. 
It was an amazing night. We went home the next day. On our way home we stopped by Casa de Fruta in Gilroy, that sold the most amazing things. They also had a playground. We stopped to play for a while, of course.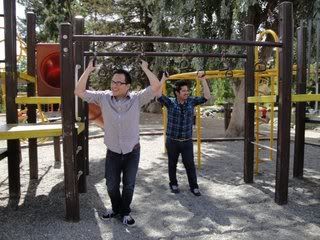 On the way home, all I kept thinking was about how great that weekend was. For so many reasons (including The Killers), it was perfect. 
I can't wait for another fun adventure in May. With lots more pictures and drunk videos…..and maybe another Brandon Flowers mustache.